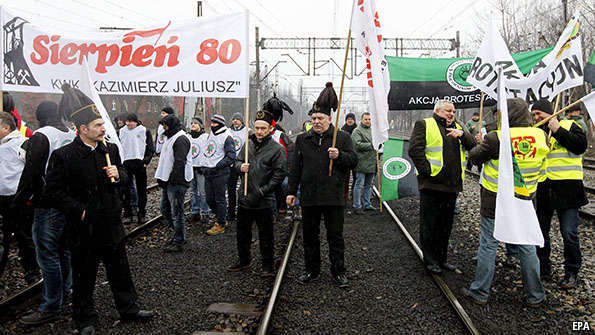 Date: Tuesday the 10th of March 2015
Time: 6pm to 7pm
Location: Polish Consulate  2 Kinnear Road, EH3 5 Edinburgh, United Kingdom
Join us at 6pm, on Tuesday the 10th of March, outside the Polish Consulate at 6pm, to demonstrate that the people of Scotland stand in solidarity with the people of Poland as they face bitter confrontations over their working rights and conditions.
Sparked by threats of mine closures, job losses and the extension of the week from 5 to 6 days with no pay increase, Miners in the Polish city of Jastrzebie were on strike.
Further protests have taken place in solidarity with ten sacked Trade Union Activists who tried to organise solidarity action to support the workers facing these savage attacks on their working rights and conditions.
The response to these protests was brutal.
On the 2nd and 9th of February, tear gas, water cannons and rubber bullets were fired at unarmed protesters.
As internationalists we firmly believe that an injury to one is an injury to all. The Polish and Scottish workers living side by side in Edinburgh have far more in common than any of us do with our own national ruling classes.
More info on Facebook
https://www.facebook.com/events/336814333191856/
More info in this article
http://marxiststudent.com/marxist-student-solidarity-with-striking-polish-miners/
This has been written up as a solidarity motion for Trade Unions etc. Feel free to propose it at your TU or political party etc. branch.